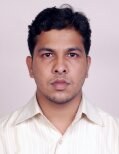 Designation: Clerk- C
About Me: B.Com. from University of Mumbai
Nature of work:  Assist the Dean, HBCSE Faculty in day to day work; coordinate and oversee HBCSE Graduate school related activities, am involved in activities related to recruitment of Faculty, Visiting Fellows and Short Term Visitors and Student Interns. I maintain the APAR files of Scientific & Technical staff members and a calendar of the graduate school activities such as courses, examinations and others. I am involved in the Annual report compilation for HBCSE activities.
Contact Details:
 Ravindra Narendra Sawant
Room No. 230 (Dean's Office),
Homi Bhabha Centre for Science Education,
Tata Institute of Fundamental Research,
V. N. Purav Marg, Mankhurd,
Mumbai – 400 088, India.
Tel: +91-22- 2507 2230
Email : ravindra@hbcse.tifr.res.in
My Hobbies and interests: I love sports and play football and enjoy travelling.